Tea & Tonic 2022
Support Survivors. Prevent Assault.
Join us for Tea & Tonic on Friday, June 17, 2022 at The Rady Shell at Jacobs Park featuring guest speaker Aly Raisman! In addition to a brief program featuring our guest speaker, our event also features an auction, live music, and plenty of opportunities to mingle. A private VIP reception is included for all sponsors and VIP ticket holders.
Event Details
Date: Friday, June 17, 2022
Time: 1:30-4:30 p.m.
1:00 p.m. Check-in Opens

1:30 p.m. Champagne Reception & Auction Area Open

2:00 p.m. Lunch & program with live auction begins

3:30 p.m. Program ends

3:30 p.m. VIP Reception with Aly Raisman begins (For Sponsors and VIP Ticketholders)

4:30 p.m. VIP reception ends
Location: The Rady Shell at Jacobs Park: 222 Marina Park Way, San Diego, CA 92101
Suggested Attire: Business/cocktail attire
#SupportSurvivors  #TeaAndTonic2022
Our Guest Speaker - Aly Raisman
Aly Raisman, team captain of the gold medal-winning Women's Gymnastics teams in 2012 and 2016, is the third most decorated American gymnast of all-time. Today, Raisman is an advocate for systemic changes within the sport of gymnastics and the eradication of sexual abuse.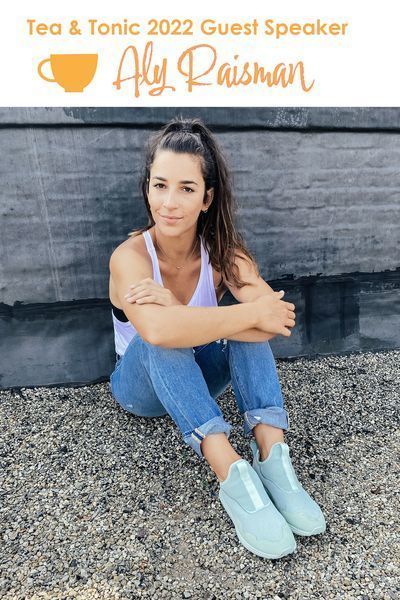 Our Venue - The Rady Shell at Jacobs Park
Enjoy award-winning cuisine while taking in the stunning views at The Rady Shell at Jacobs Park. This architectural wonder sits on the edge of San Diego Bay on the Embarcadero.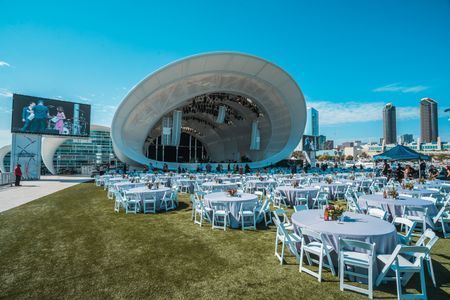 Sponsorships
For tables and sponsorships, please call 858-693-2369 to check on availability. Thank you for your support! Donations in support of our event can still be made here.
Tickets
Thank you so much for your support of CCS. Tables for Tea & Tonic are SOLD OUT! However, we do have lawn seats available while they last!
Lawn ticket: $25 - while seats remain available! (includes a seat and boxed lunch with bottled water in the seated lawn section of the venue)
The food and beverage benefit has a fair market value of $150 per guest.
Are you affiliated with a youth/young adult athletic group and are interested in attending Tea & Tonic? Please email Dariel Hampton at dwhampton@ccssd.org to ask about our special offer for youth groups.
Meet our Tea & Tonic Co-Chairs!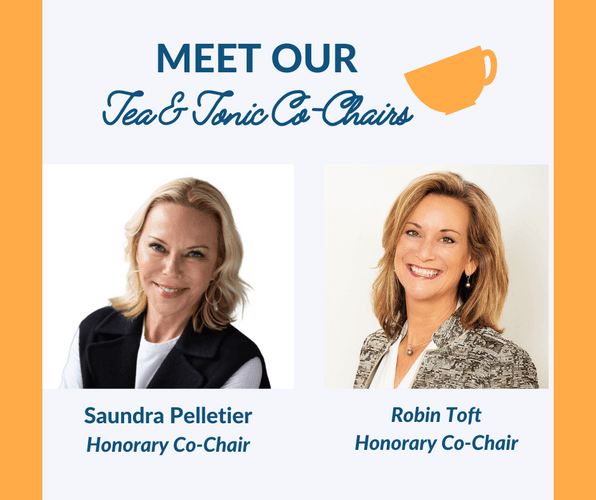 Saundra Pelletier is one of the most dynamic women in today's biotech industry. As CEO of Evofem Biosciences, she is revolutionizing women's healthcare with innovative products meeting the unmet needs of millions of women. Saundra is a force of energy that blends substance and excitement with straight talk and refreshing opinions. She is a leader in the boardroom and beyond, using her experience, voice and vision for real, progressive change and to deliver results.
"As a CCS board member, I make it my mission to find impactful ways to prevent sexual assault of any kind. If we are going to end the stunning prevalence of sexual assault and intimate partner violence in our personal circles and throughout our communities, we all need to support the critical work led by CCS."
Robin Toft is Global Life Sciences & Board Diversity Leader with ZRG Partners, and Chairman and Founder of Toft Group Executive Search and We Can Rise, Inc. Robin is the author of the book "WE CAN, the Executive Woman's Guide to Career Advancement" and leads the global WE CAN™ movement to expand networking and learning opportunities for female executives worldwide. She has recently co-authored Ignite Your Board Career, the Board IQ Playbook.
"I am a longtime supporter of CCS programs because they provide multiple services to support survivors and their philosophy is that a survivor's healing involves all of us. As community members, we all have a responsibility to view assault in all its forms as a health crisis and to do our part to reduce harm and increase safety and support."
Frequently Asked Questions
Check out our frequently asked questions here.
###