Spirit of Stonewall Rally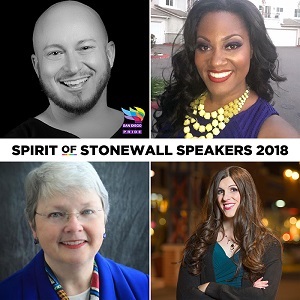 The origins of the global Pride movement can trace their roots to the Stonewall riots of 1969, an uprising against police brutality that has spread around the world. Over 1,000 Pride events have been identified across the globe, each one taking on a local flair. In San Diego, we launch Pride weekend by honoring those beginnings with the Spirit of Stonewall Rally where we celebrate the accomplishments of those at the forefront of our movement and recommit to the work that lies ahead.
In San Diego, the first rally was held in 1975. San Diego Pride's Spirit of Stonewall Rally is a time to recognize and honor leaders who are working hard to preserve our gains and meet the many challenges still facing our community.
Liat Wexler, CCS Training Specialist, will be speaking at the rally, addressing sexual assault in the LGBTQIA+ communities.
Come join us as cheering crowds and energetic speakers launch San Diego Pride Weekend
**Accessibility:
This event is wheelchair accessible and ASL interpretation will be provided. The ASL interpreters will be placed on the right side of the platform facing the audience. Reserved seating in the first two rows on the left side will be offered to Deaf folks and people with disabilities as well as those with service dogs.
Any other accessibility accommodations can be sent to accessibility@sdpride.org and/or melissa@sdpride.org