SART with Heart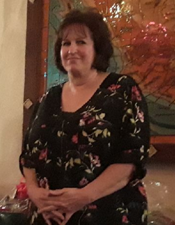 As a SART(Sexual Assault Response Team) Volunteer Victim Advocate, Suzanne is on call to provide in-person advocacy, emotional support, information, and referrals to survivors of sexual assault at the forensic exam in collaboration with the forensic nurse and law enforcement. As soon as she receives a call, she must go to the site of the forensic exam, introduce herself to the survivor, and offer to provide them with support throughout the evidentiary exam, if desired. Suzanne must be sure that the survivor knows that it is their decision to have the advocate present at any time during the process and that the advocate will respect the survivor's preferences and limits regarding support.
In addition to always completing 24 hours of on-call service per month, Suzanne regularly responds to emergencies and covers for other volunteers. In fact, since 2015, Suzanne has volunteered almost 1,800 hours at CCS!  She also participates in every fundraiser CCS organizes and invites her co-workers and family members to participate as well.  In addition, Suzanne participates in tabling events to provide people in our community with information and referrals about sexual assault and intimate partner violence.  As Associate Director of Sexual Assault Services, Maria Outcalt-Smith, noted, "Suzanne captures the essence of what volunteering is all about and she sees herself as part of the community that provides care to survivors."  Because of her steadfast dedication to survivors of sexual violence in the San Diego Community, Suzanne was an honoree at the 2019 SART Awards.
Suzanne's dedication to the most vulnerable in our community extends beyond CCS.  For the past 40 years, she's worked with survivors of sexual assault, offered meals to people who are homeless, and volunteered at The Leg Up Ranch, a non-profit that provides a day at the ranch to groups of people with life-altering circumstances. Thank you, Suzanne, for your tireless commitment!  You truly embody a caring community!