Bridging Hearts Holiday Testimonials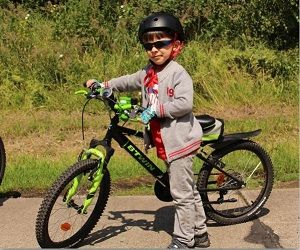 Still holding his mother's hand, a bright, beaming 10-year-old peeked his face around the donation room door. "Is that my bike over there?" he asked, his voice edging up in excitement. When the affirmative answer came, he raced over to grab the handle bars and touch the sleek black and green painted frame. "This is SOOOO cool!" he said, calling out to his mother. Two younger siblings burst in behind him, magnetically drawn to the bikes destined to become theirs. "OH, OH, OH!" and "YES!" were simultaneously exhaled as each touched the dream-mobiles they had hoped for. Their mother, overcome with happiness, kept saying "Thank you!" over and over again. As gift bags and bikes were piled into the car, everyone expressed their joy and smiles and hugs, heading off to share an unexpected bounty with genuine gratitude for the kindness of strangers.
_____________________________________________________________________________________
A young mother arrived with her three children – a six-year-old, a three-year-old and a baby still snuggling in her mother's arms. As the two toddlers entered the Bridging Hearts room, closely corralled by their grandmother who followed from behind, their voices erupted in squeals of excitement. Each ran directly to a toy that dazzled them and they jumped up and down as they asked if they could choose one to keep. Their mother checked for approval from CCS staff and then, hearing that they had free choice of an extra gift each, smiled happily and said, "Yes, you may choose any one you like!" Absolute pandemonium broke out as each child then ran joyfully around the room touching and testing all of the possibilities. Their mother, happily selecting some new baby clothes, began to cry softly, saying, "I can't believe you have such generous donors. This is incredible! We wouldn't have had a Christmas without you."
After the special toys were chosen, the six-year-old found a small selection of jewelry and looked up to ask if he could give a set of earrings to his mother from the table. At his request, staff helped him choose and then helped him wrap his selection up – ready to give a special memory of love to his mother. As staff walked the family to the car carrying gifts, the grandmother turned and said, "Thank you. This means so much to us all."
_____________________________________________________________________________________
A couple arrived by foot quietly asking if it was okay to pick up their gifts. When they came inside, their eyes focused on the donated clothing area, asking if there were any shoes available. Not realizing that their donor has supplied a new pair of shoes for each of them, they seemed disappointed when no shoes were found to fit. As they looked more, they then found a warm sweater and a pair of warm pants that seemed to brighten their mood. When they turned to leave, staff offered them their gifts, already bagged up and ready to carry. They stopped, surprised. "You mean we get more?" they asked. When they learned that all the clothing items on their wish list were included in the bag, including two new pairs of shoes, they both stood still, looked at each other and then slowly smiled. Simultaneously they both said, "Wow!" The young lady then said, "Thank you so much."
As they started to leave, they asked if their donor's gifts could be placed in a canvas tote fearing a plastic bag might not last as they walked back home several miles. Staff tucked all the gifts snuggly into donated canvas bags and tossed in a few holiday treats to make the walk home a little brighter.
_____________________________________________________________________________________
A mom and daughter arrived to pick-up their Bridging Hearts gifts and they never expected to find that included among the toy and clothes were laptops for the family. At first shock and disbelief came over the family, and then tears began to flow. Mom and her three children are staying at one of CCS' shelters. Mom works during the days and had recently applied, and was accepted, into a college program. Her oldest is also attending college and helping support the family. She explained through her tears that she has never felt so supported by a community like this in her entire life. She sends a big thank you to shelter staff for helping get her family back on their feet. In her own words, she asked us to share with all CCS supporters, "I will not let you down, and I will make you proud. I will be a success story."
_____________________________________________________________________________________
Bridging Hearts was a truly beautiful and connecting experience. It is a testament to the strength of our clients and compassion of our donors. It feels easy these days to fall out of feeling human, to just go through the motions of life without feeling. The experience with the clients picking up particularly brought me back to humanity. Everyone who came to pick up was very gracious and kind. One client had asked if there was a way the gift for her five year old daughter could be a twin bed. When she came to pick up she was so happy and laughing and this was before she even knew that the bed was there. When she saw it she broke down in tears and couldn't stop hugging everyone around her. She explained how much it meant to her to be able to set up her daughters own space and have her in a bed she could fit in, not a toddler size cot. The simplicity and necessity of a bed for your child and witnessing her immense gratitude and joy have stayed with me in the week following.
_____________________________________________________________________________________
The hugs. Often after clients finished picking up they wanted to hug. These were intense hugs, you felt like this stranger was really saying more than thanks it was like this connection greater than thank you. It was an acknowledgement that we all live in this world together and the force of love will also be greater than hardship. The hugs really stuck with me.