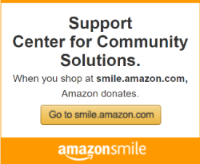 In addition to financial contributions, CCS also accepts a variety of in-kind donations. 
Please note that we only accept new items on our wish list. The only exception is gently used furniture. Thank you!
If you have any questions, please contact our Resource Development Department for more information on how you can make a difference in the life of someone today. 
Resource Development: 858-272-5777 x120
E-mail: aglann@ccssd.org 
Center for Community Solutions is a nonprofit 501(c)(3) organization. 
All contributions are tax deductible to the fullest extent of the law. 
Tax ID: 95-6379598